Bill Lauritzen is an author, educator, speaker, scientist, engineer, visionary, performance artist, entrepreneur, and athlete. Because of his wide-ranging interests he has been called a modern-day renaissance man. Sir Arthur C. Clarke, inventor of the communications satellite called Bill "some kind of genius." Harry Kroto, Nobel Prize winner, invited Bill to present his ideas at an international conference on nanotechnology. Among his other accomplishments, Bill invented a new number system, designed a modern-day Stonehenge, and wrote a paper on the value of geodesic domes. He also wrote a book on the natural origins of mythology and religion. From 2010-2018 he lived and traveled in China. While there he taught at Xiamen University in the College of Foreign Languages and Cultures, and he was associated with the Brain-Like Intelligence Systems Laboratory.
He is a distinguished graduate of the Air Force Academy in Colorado Springs and was named the Outstanding Graduate in both Behavioral Sciences and Philosophy. One of his advisors at the Air Force Academy was Roger Bate author of the classic book on astrodynamics. Bill also received a master's degree from Purdue University in Industrial and Organizational Psychology/Human Factors Psychology. In the Air Force he designed jet cockpits as a usability engineer. In the wake of the Vietnam War, he left the Air Force as a pacifist, but has since realized the necessity for military intervention.
Before going to China, he taught at Otis College of Art and Design, Los Angeles City College, Johns Hopkins University (CTY), Columbia College Hollywood, and, as a substitute teacher, at numerous schools throughout the inner city of LA, including East LA and South Central LA. Including his substitute experience, he has taught at 116 different schools, colleges and universities, in every grade from kindergarden through university, making him perhaps one of the world's most experienced educators.
Furthermore, Bill used computer programming to 1) to study highly composite numbers and wrote a well-received paper about them, and 2) to developed a web robot to find jobs for substitute teachers.
He is currently an advisor to the Lifeboat Foundation.
His hobby is swimming, and he sometimes competes in swimming and occasionally gives swimming lessons. He has been ranked by Swim Magazine in the Top Ten in the World in master's swimming. In 2019, in his age division, he was ranked in the top five in the USA in two events.
Nobel Prize winner Harry Kroto (left) and Bill Lauritzen (right)(1994). Dr. Kroto, co-discoverer of Carbon-60, invited Lauritzen to show some of his models of Carbon-60.
Martin Gardner and Bill Lauritzen (left) pose at Gardner's home in North Carolina. Gardner is the former mathematics editor of Scientific American and has written about 75 books, many of them having to do with mathematics and science. He read and praised several of Lauritzen's articles.
Lauritzen and his friend Mamikon at Cal Tech. Mamikon is an award-winning mathematician who developed a simpler method of doing many standard calculus problems: visual calculus.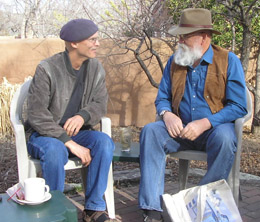 Bill with Daniel Dennett, American philosopher and author, March 31st, 2010 in Santa Fe, discussing science and religion.
Bill with friend Ben Goertzel at the Brain-Like Intelligent Systems Lab at Xiamen University, China during 2010-2012.